ellephysio is pleased to be an official barre-none affiliate studio!
What is barre?
The BarreNone method is a Pilates based exercise system influenced by the graceful movements of ballet and traditional asana's of hatha yoga. The result is a physically demanding system that will strengthen, lengthen and tone your entire body.
Recognizing the benefits of classical barre systems traditionally reserved for dancers, Crystal Webster developed the BarreNone method. Drawing on her extensive education of physical movement (BSc Human Kinetics & Sports Injury Management Diploma), 10 years of pilates instruction and yoga experience, and collaboration with professional dancers the barrenone method is simply the most efficient way to strengthen, lengthen and tone your body.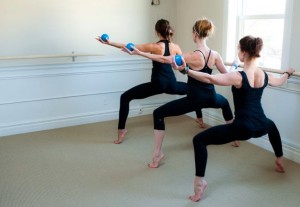 BarreNone fundamentals:
Being Pilates based, all exercises focus on posture, precision of movement and movement with breath.
Posture Awareness
Unlike traditional Pilates, Barre work is done standing. By exercising and strengthening the body in a functional standing position, we can be incredibly aware of our posture and correct postural imbalances.
Precision of Movement
It is the precision on the movements that makes Pilates so effective in creating strong, lean, beautiful bodies. All BarreNone exercises incorporate the fundamentals of Pilates which ensures that you are strengthening efficiently. BarreNone teachers are highly trained to ensure your form and posture come first in all movements.
Movement with Breath
All exercises are guided by the breath to:
ensure that the muscles are fuelled by breath,
help the body flow thru movements gracefully,
reduce unnecessary tension,
increase vitality and mental focus
What to expect in a class:
All BarreNone classes are performed entirely at the barre. The classes are mindfully sequenced to warm up the body, engage stabilizing muscle groups, strengthen the more powerful muscles of the body, mobilize and articulate the spine and joints, and stretch and lengthen worked muscles.
Although BarreNone is ballet inspired, it is not a dance class. It is accessible and challenging for all ages and abilities. No dance, yoga or pilates background required.
The BarreNone method is designed to produce lifted buttocks, strong toned legs, sculpted arms and back and amazing posture. The BarreNone method is physically demanding, and your muscles are going to change.
Traditionally barre work has been reserved for dancers to help sculpt their long beautiful figures. We can't all be dancers, but we can enjoy the benefits of many of the moves to create our own sculpted physiques!